What Is Cross Country Mountain Biking & What Do I Need
Cross-country mountain biking is a form of mountain biking where the emphasis is placed on endurance rather than technical skills. It is generally considered to be more difficult than downhill mountain biking, as it requires a higher level of fitness. Cross-country mountain bikers typically ride on singletrack trails, which are narrow and winding, and often contain obstacles such as roots and rocks.

In order to be successful at cross-country mountain biking, it is important to have a good understanding of bike handling skills. Additionally, riders need to be able to maintain a high level of fitness in order to sustain the demands of long rides. Finally, having knowledge of trail etiquette will help ensure that everyone can enjoy the trails safely.
Cross country mountain biking is an outdoor sport that combines elements of both road and mountain biking. It generally takes place on off-road trails, such as singletrack, fire roads, and dirt paths. Cross country mountain biking typically involves riding for extended periods of time over varied terrain.

What do you need for cross country mountain biking? A typical cross country bike has front and rear suspension, with 29-inch wheels. Most riders also wear protective gear, such as a helmet, gloves, and elbow and knee pads.

If you're interested in trying cross country mountain biking, there are a few things you should keep in mind. First, it's important to choose the right bike. You'll want a bike that's lightweight and easy to maneuver on the trail.

Second, make sure you have the proper safety gear. And finally, be prepared for a workout! Cross country mountain biking can be quite physically demanding, so it's important to be in good shape before hitting the trails.
What is Considered Cross-Country Mountain Biking?
Mountain biking is a sport of riding bicycles off-road, often over rough terrain, using specially designed mountain bikes. Mountain biking can be performed almost anywhere from a back yard to the Himalayas. Most mountain biking takes place on trails, singletrack, fire roads, and other unpaved surfaces.

These areas are generally divided into two categories: cross-country (XC) and downhill (DH). Cross-country mountain biking typically covers shorter distances with less vertical drop than downhill mountain biking. It also places more emphasis on endurance and fitness rather than the technical skills required for descending steep slopes.

This type of mountain bike riding is often referred to as "trail riding." Downhill or alpine mountain biking covers longer distances with more vertical drop than XC riding. It requires more technical skills to safely navigate the rougher terrain and steeper slopes often found in this type of environment.

Many DH courses are located at ski resorts that operate during the summer months when there is no snow on the ground.
What is a Cross Country Mountain Bike Used For?
A cross country mountain bike is used for a variety of different things. They are great for riding on trails and off road, as well as being able to handle some light jumping and drops. Most cross country mountain bikes have around 100mm of suspension travel, which is enough to take on small bumps and roots without issue.

If you are looking to do any serious downhill or freeride mountain biking, then a cross country bike is not the best option as they are not built for that type of riding.
How Do You Start Cross-Country Mountain Biking?
Cross-country mountain biking is a great way to explore the great outdoors and get some exercise at the same time. But before you hit the trails, there are a few things you need to know. First, you need to make sure your bike is in good working order.

This means having it serviced regularly and checking that all the parts are in good condition. You also need to make sure you have the right tires for cross-country riding. They should be able to grip well on both hardpacked and loose surfaces.

Second, you need to be prepared for the challenges of cross-country riding. This includes being able to ride up hills as well as down them. You also need to be able to navigate around obstacles such as roots and rocks.

And finally, you need to be able deal with changes in weather conditions, such as heat, cold, rain or snow. Third, you need to dress appropriately for cross-country riding. This means wearing clothes that will keep you comfortable in all kinds of weather conditions and that won't get caught on branches or other obstacles.

You also need to wear shoes that provide good traction and support. Fourth, you need to be aware of your surroundings at all times when riding cross-country. This means keeping an eye out for other trail users such as hikers and horseback riders, as well as potential hazards such as downed trees or washouts in the trail ahead of you.

If possible, try to ride with someone else so that you can watch out for each other. Finally, always remember to bring plenty of water and food with you when going cross-country mountain biking – especially if you're planning on being out on the trails all day!
What'S the Difference between a Trail And Cross Country Mountain Bike?
The term "mountain bike" can refer to a lot of different things these days. There are fat bikes designed for riding in snow, enduro bikes designed for descending steep terrain, and even electric mountain bikes that give you a little boost up the hills. But when it comes to traditional mountain biking, there are two main types of bikes: trail bikes and cross-country (XC) bikes.

Here's a quick rundown of the key differences between them: Trail Bikes A trail bike is a good all-rounder that can handle a bit of everything.

They're not as light or nimble as an XC bike, but they're also not as heavy or slow. Trail bikes typically have around 120mm-140mm of suspension travel (the amount the shocks compress), which is enough to soak up small bumps but not so much that it slows you down on pedaling sections. Most trail bikes also have wider tires than XC bikes, which helps with grip and stability on loose or rocky terrain.

And while they're not quite as capable as an enduro bike, most trail bikes can still handle some reasonably technical riding and even occasional drops and jumps. Cross Country (XC) Bikes An XC bike is designed primarily for speed and efficiency on relatively smooth trails.

They tend to be lighter than trail bikes (which makes them easier to pedal) and have less suspension travel (usually 100mm-120mm). This makes them better at handling roots and rocks, but also means they're less forgiving if you make a mistake while riding at high speeds. Additionally, XC tires are usually narrower than those on trail bikes, which helps keep rolling resistance low but doesn't offer quite as much grip in corners or on loose surfaces.

If you want to go fast and ride mostly smooth trails, an XC bike is probably what you're looking for.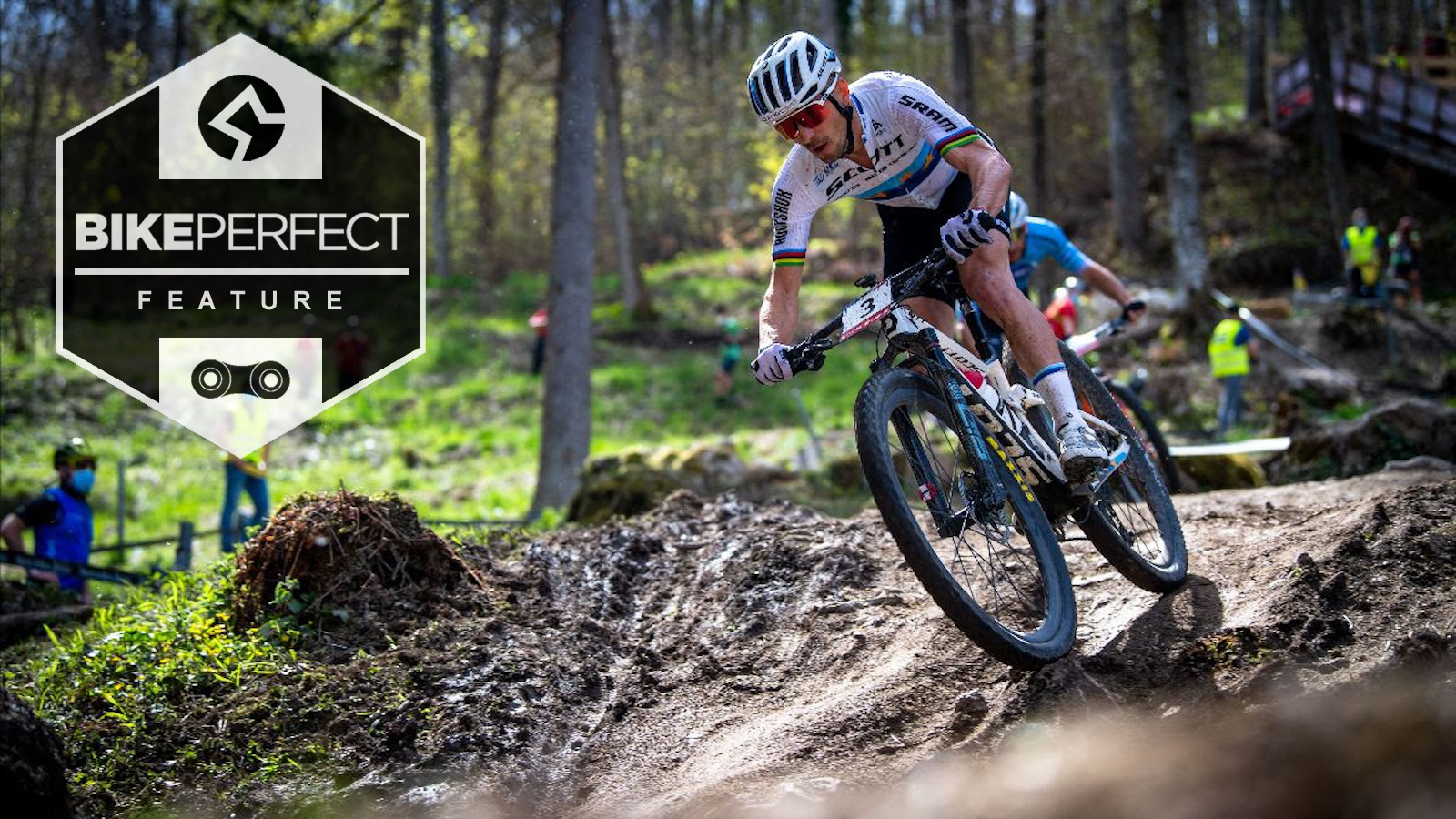 Credit: www.bikeperfect.com
Cross Country Mountain Bike Races 2022
The 2022 Cross Country Mountain Bike World Championships will be held in Les Gets, France from August 26-27. This will be the first time that the event has been held in France since 2002, when it was last held in Morzine. The race course for the championships will be announced soon.
Conclusion
Cross country mountain biking is a type of mountain biking that typically takes place on more gentle, rolling terrain. It's a great way to get out and explore nature, and it can be a fun and challenging workout. To get started, you'll need a good mountain bike and some basic gear.
{ "@context": "https://schema.org", "@type": "FAQPage", "mainEntity":[{"@type": "Question", "name": "What is Considered Cross-Country Mountain Biking? ", "acceptedAnswer": { "@type": "Answer", "text": " Mountain biking is a sport of riding bicycles off-road, often over rough terrain, using specially designed mountain bikes. Mountain biking can be performed almost anywhere from a back yard to the Himalayas. Most mountain biking takes place on trails, singletrack, fire roads, and other unpaved surfaces. These areas are generally divided into two categories: cross-country (XC) and downhill (DH). Cross-country mountain biking typically covers shorter distances with less vertical drop than downhill mountain biking. It also places more emphasis on endurance and fitness rather than the technical skills required for descending steep slopes. This type of mountain bike riding is often referred to as trail riding. Downhill or alpine mountain biking covers longer distances with more vertical drop than XC riding. It requires more technical skills to safely navigate the rougher terrain and steeper slopes often found in this type of environment. Many DH courses are located at ski resorts that operate during the summer months when there is no snow on the ground." } } ,{"@type": "Question", "name": "What is a Cross Country Mountain Bike Used For? ", "acceptedAnswer": { "@type": "Answer", "text": " A cross country mountain bike is used for a variety of different things. They are great for riding on trails and off road, as well as being able to handle some light jumping and drops. Most cross country mountain bikes have around 100mm of suspension travel, which is enough to take on small bumps and roots without issue. If you are looking to do any serious downhill or freeride mountain biking, then a cross country bike is not the best option as they are not built for that type of riding." } } ,{"@type": "Question", "name": "How Do You Start Cross-Country Mountain Biking? ", "acceptedAnswer": { "@type": "Answer", "text": " Cross-country mountain biking is a great way to explore the great outdoors and get some exercise at the same time. But before you hit the trails, there are a few things you need to know. First, you need to make sure your bike is in good working order. This means having it serviced regularly and checking that all the parts are in good condition. You also need to make sure you have the right tires for cross-country riding. They should be able to grip well on both hardpacked and loose surfaces. Second, you need to be prepared for the challenges of cross-country riding. This includes being able to ride up hills as well as down them. You also need to be able to navigate around obstacles such as roots and rocks. And finally, you need to be able deal with changes in weather conditions, such as heat, cold, rain or snow. Third, you need to dress appropriately for cross-country riding. This means wearing clothes that will keep you comfortable in all kinds of weather conditions and that won't get caught on branches or other obstacles. You also need to wear shoes that provide good traction and support. Fourth, you need to be aware of your surroundings at all times when riding cross-country. This means keeping an eye out for other trail users such as hikers and horseback riders, as well as potential hazards such as downed trees or washouts in the trail ahead of you. If possible, try to ride with someone else so that you can watch out for each other. Finally, always remember to bring plenty of water and food with you when going cross-country mountain biking – especially if you're planning on being out on the trails all day!" } } ,{"@type": "Question", "name": "What'S the Difference between a Trail And Cross Country Mountain Bike? ", "acceptedAnswer": { "@type": "Answer", "text": " The term "mountain bike" can refer to a lot of different things these days. There are fat bikes designed for riding in snow, enduro bikes designed for descending steep terrain, and even electric mountain bikes that give you a little boost up the hills. But when it comes to traditional mountain biking, there are two main types of bikes: trail bikes and cross-country (XC) bikes. Here's a quick rundown of the key differences between them: Trail Bikes A trail bike is a good all-rounder that can handle a bit of everything. They're not as light or nimble as an XC bike, but they're also not as heavy or slow. Trail bikes typically have around 120mm-140mm of suspension travel (the amount the shocks compress), which is enough to soak up small bumps but not so much that it slows you down on pedaling sections. Most trail bikes also have wider tires than XC bikes, which helps with grip and stability on loose or rocky terrain. And while they're not quite as capable as an enduro bike, most trail bikes can still handle some reasonably technical riding and even occasional drops and jumps. Cross Country (XC) Bikes An XC bike is designed primarily for speed and efficiency on relatively smooth trails. They tend to be lighter than trail bikes (which makes them easier to pedal) and have less suspension travel (usually 100mm-120mm). This makes them better at handling roots and rocks, but also means they're less forgiving if you make a mistake while riding at high speeds. Additionally, XC tires are usually narrower than those on trail bikes, which helps keep rolling resistance low but doesn't offer quite as much grip in corners or on loose surfaces. If you want to go fast and ride mostly smooth trails, an XC bike is probably what you're looking for." } } ] }